Taper week and Ranger 34K report
On Friday, Eddie and I decided to go up to the Ranger base and do their annual 34K mountain bike race. The course is all gravel road and starts with the first climb to Cooper Gap that is included in the Fool's Gold 50/100 course. It then rolls over the ridge and descends the fun and fast road from Winding Stair Gap, and finishes with another climb to the finish. We stayed at our friends' amazing cabin near Blue Ridge on Friday night so we'd be closer in the morning.
Unfortunately, we underestimated the time it would take to get there in the morning and we arrived at 7:15 am. Except, we still had to register both of us and the race started at 7:30! I don't know how we made it on time as the registration line was at least 20 people long. There was also a 5K/15K run and a duathlon that people were doing.
I rolled up to the start line and 2 minutes later we were off. My HR was already soaring from the pre-race stress. I settled into a nice brisk pace on the first climb and was able to keep 2nd and 3rd place in sight (1st took off like a rocket from the start and there was no catching her). Then, 2nd place started to look farther and farther away..but 3rd was still with me at the top of Cooper Gap. I don't think she liked me sitting on her wheel because the next thing I knew was she turned around, clicked up into the big ring, and hammered away. Too bad I didn't have the gears to respond and I was left to myself spinning along. I lost a ton of time on the flats and rollers along the ridge, only hoping to reel her in on the somewhat techy gravelroad descent. Not so, they graded it so it was smooth and fast, it would have been more to my advantage had they left the rocks and waterbars in, but oh well! I came in 4th female overall, and 1st in my age group. They do age group categories at this one which is different than most races I do. Eddie also got 1st in his AG.
We spent the rest of the day hanging out at Rich & Donna's cabin which has now given me huge cabin envy. I can't wait to be out of grad school and have an income again because this cabin was perfect for mountain weekends!
Pics borrowed from the NC Hillbilly:
Jackson and me waiting for the awards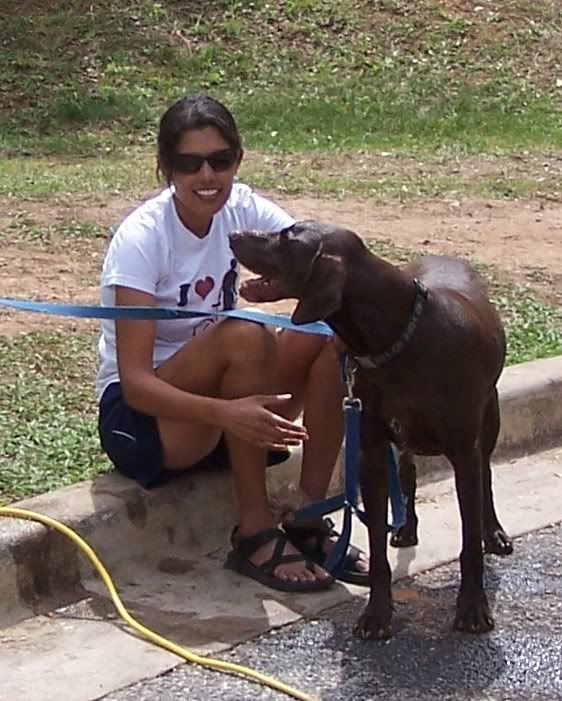 Eddie getting his 1st place award
This week is full on taper for 24 hours of Conyers this weekend. I sure hope I feel better in a week than I did at the race yesterday!