It really was that bad!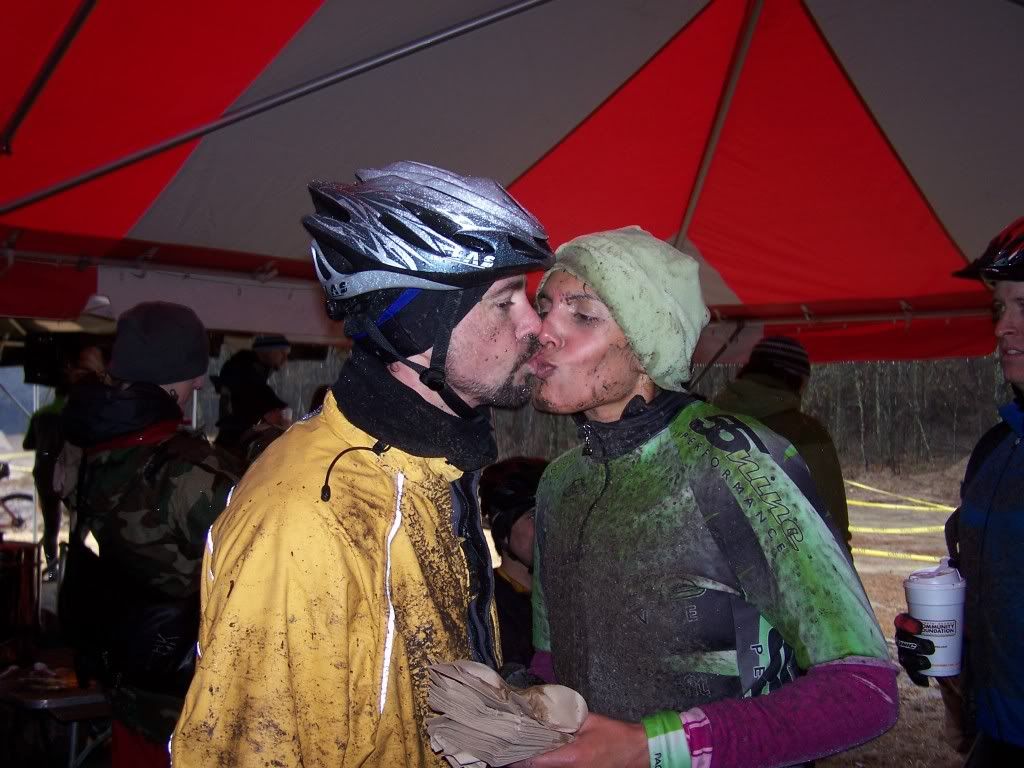 (photo by Barbie)
Usually the weather forecast is worse than what really turns out...but NOT THIS TIME! I can safely say I have never been that wet & cold ever while riding. I liken it to the "SMAR paddle" for any of you adventure racers that remember paddling that cold night in NC..2006 maybe? Brr. Seriously, the race went something like this:
Start: 28 people
Lap 1: 20 people
Lap 2: 15 people
Lap 3: 9 people
I think only 2 or 3 people did more than 5 laps! Crazy. I ended with 3, and while I was having loads of fun riding wet trail, I just couldn't feel my fingers or my toes and everything was soaked to the bone. Each glove weighed about 2 lbs with all the water, and I had about 1/4 inch of water in each of my Lake winter shoes. Plus, when I came in from lap 3 I had a big heater, beer, Hot Damn, and Rum all put in front of my face within 5 minutes...and I am not stupid. :) I did end up with 3rd place but also got the fastest female lap, which earned me SOME SWEET PRIZES BY MALLIE!!!!!!!!!!!! These were the best prizes I've ever won...you could tell she put in a lot of work to make them.
Thanks to LH Thomson & Family, Bruce, Mike Stanley, Maurice from Dirt Rag, Carl Mesta, Mark D, Renee & Jake, OMBA, the Deins, Trev & Anne, PBC, Tracey & Brandon, and everyone else that made the day super fun despite the weather.
I am sorry to never have met Ronnie Thomson in person, he sounds like he was a pleasure to know. His family was very kind to have us join in his memorial, and I'm glad I went.