#$%%$^#@$
That pretty much sums up how my weekend went!
Saturday: I was supposed to get in a 5 hour hard ride on the mtb, but forecasted rain for Saturday afternoon caused us to switch up days..easy road ride on Saturday, hard mtb ride on Sunday. Saturday actually turned out to be very pleasant..cloudy and threatening rain, but quite nice and warm for riding. I wanted to ride longer, but a certain saddle sore said otherwise. As soon as I got home, I was summoned to an emergency group meeting with some classmates...that lasted the next 5 hours, and then I had a dumpload of schoolwork to do after that.
Sunday: The wind was howling at 7am when the dogs woke me up. Yup, cold front after the rain...great. I looked at the forecast and surprisingly it said a high of 50 and chance of rain. We waited a bit for it to warm up (and I tried finishing up some projects for school) and headed up to Ocoee (Start/Finish for Cohutta 100 next weekend). Jackson and Porter wanted to go, but it took a little convincing. Here is Jackson taking his morning nap (with a scarf on--he was chilly), and Porter doing his thing.
The rain fell harder, the temps dropped lower, and the wind got stronger the closer we got to Ocoee. We arrived in the parking lot and I REALLY didn't want to ride. It was 37* or below and SNOWING. WTF! We decided to bail on this idea and try a new trail further south. I made it about an hour and couldn't take it anymore. I couldn't see anything with all the snow (great day to forget my
Tifosis
..eh).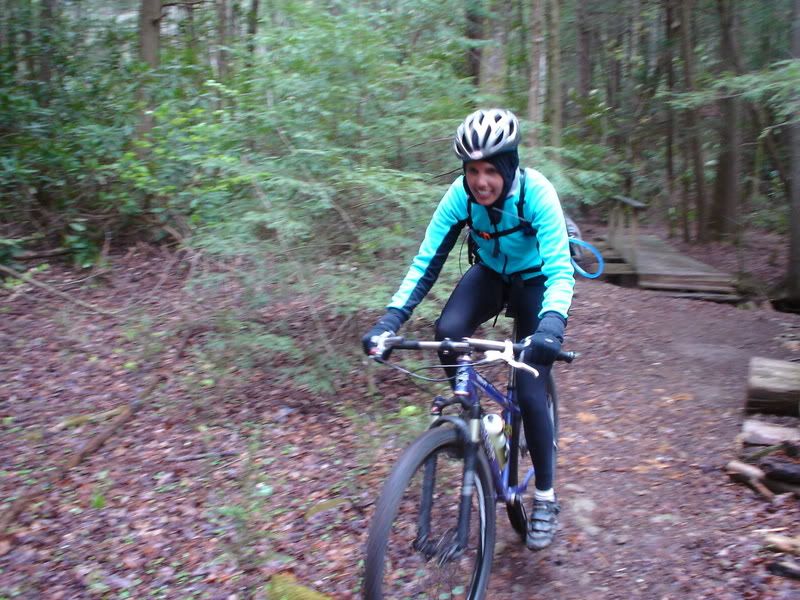 Lately, it seems like almost every time I ride my SS on the weekends, my legs are dead from the week. I haven't been sleeping enough, and probably not eating very well either. Throw this weather from hell in, and I was done. I know if it had been sunny and/or warm (I'm not asking for too much here), I would have been able to warm up and work the kinks in my legs out..but it wasn't happening. I guess I'm just starting my taper for the coming weekend's race a day early. This week will be all about prepping my bike, sleeping lots, trying to avoid stress from school (very difficult right about now), and eating well. I'll ride a little too, and hopefully catch a bit of the Tour of GA. A little sun won't hurt for improving my mood either. Right now, I'm thinking a move is in order. Hawaii, maybe.