Tuesday, August 23, 2005
Monday, August 01, 2005
Off-road Assault on Mt. Mitchell
I went into this weekend with a few personal goals, and for training for Shenandoah 100 coming up in September. The ORAMM would be good training, as it's 66 miles and 11,000 feet of climbing with enough singletrack to keep things fun. Out of the several (20 or so) people I knew doing this race, my friend Charlie and I were the only ones that had never done this race in years past. So, we decided that we'd stick together for motivation. A group of FL guys and girls and I headed out Saturday morning to pre-ride the Kitsuma trail. I rode very conservatively, not wanting to hurt anything the day before the race. I felt good, the trail was really fun and challenging at the same time. The views up there were gorgeous, but sorry, I forgot my camera...again :(
Here's Harvey, Fontana, Eddie, and me at dinner the night before the race: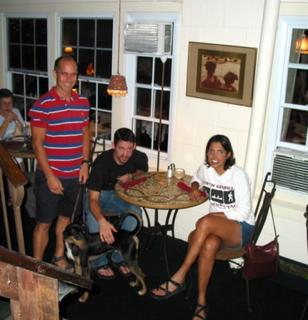 The morning of the race was an early rise as usual. The pack of 260 riders headed out around 8:20am for the 66 mile ride. The winners would finish between 5-6 hours, and the last finishers would roll in anywhere from 12-15 hours later. My goal was to finish in under 10 hours, which was realistic and conservative considering the length and difficulty of the undertaking. I wanted to check out the course this year, stay upright, not bonk, and stay motivated by "picking people off".
I've heard miserable stories of people's first attempts at the ORAMM, namely the dreaded 9-mile climb. I was sort of lucky to hear all these stories because when I encoutered the climbs they did not seem nearly as bad as I was expecting. The downside was that I may have ridden too conservatively, always trying to save energy for later. Anyway, the race started with a 5-6 mile climb maybe up pavement to the Kitsuma trailhead. I don't know why, but I am such a slow starter. It took me that entire climb to get warmed up and I felt like I was near last. The only thing that kept me from being discouraged was that I knew that the singletrack would be much more open so I wouldn't have to wait for people in front of me as I probably would if I had been closer up front. I just hoped and hoped that I would warm up soon and find my groove. This guy I recognized from Shenandoah last year started talking to Charlie and me and mentioned something about being cursed...in his last couple races the rider in front of him had crashed and ended up in the hospital. I immediately wanted to get away from this guy..quickly! We hiked/rode up the Kitsuma switchbacks, and hit the descent. I told Charlie I was going to go ahead, and he could catch me on the next climb. I then asked the guy if I could get by him, told him not to curse me, and quickly left him behind. That downhill is a blast. I must have passed 10 people on it, which was good for confidence building. So here started the "picking people off". After that it was a short paved ride to the SAG. I felt great. Onto the next section...singletrack up switchbacks, followed by singletrack down switchbacks to some grassy doubletrack. I continued a steady pace, and kept looking to catch the next person. No sign of Charlie though. After that 2nd singletrack descent, I wasn't sure I would see him again at all. Flying down the descent to the next SAG, I saw two familiar faces on the side and stopped...Stephen was standing next to Shelley who had apparently crashed on the gravel descent in a rut, and separated her shoulder. I felt really bad for her, but knew there wasn't anything I could do to help..EMS was already on the way. I continued down. Curtis Creek Road (the dreaded 9 mile climb) was next...and in truth, it wasn't bad at all. In fact, it started out very pretty. The top was interesting as there had been a huge landslide...it was a crazy site, I wish I had had a camera. What really hurt was the subsequent climb after Curtis Creek Rd. You descend, and then climb to the Blue Ridge Parkway again. This 2nd climb is shorter, but steeper. I still felt relatively good...when I tried not to think about my right foot which had gone totally numb and my sore butt. The next SAG finally appeared, I chowed down on some cookies, chugged some more BURN, and took off on the Parkway. Eddie had said to me earlier that it was probably a 1/4 mile paved ride to the turnoff to hike up to the Heartbreak Ridge trail. I kept riding for what seemed like way more than 1/4 mile and started to have doubts. The ribbons I was following weren't orange as the previous markers were, instead they were pink. I couldn't see riders in front of me or behind me. I started to panic that I had missed a turn. It has happened to me in two races in the past, so it was a definite possibility. I stopped a couple times and waited, and even turned back once. Then I saw riders coming towards me and figured I hadn't reached the turnoff yet...I was right, d'oh. We had a short but steep hike up singletrack to the Heartbreak Ridge trail. I stopped several times to keep my calf and lower back cramps from taking over my body. Finally, I mounted my bike at the top and started to descend...but....I hadn't ridden this trail before, and it was quite technical. That, and I felt a little off, maybe a bit tired perhaps??...oh well, I kept riding as carefully as I could. The trail was very wet, rooty, rocky, steep,and had waterbars what seemed like every few feet. I stopped once to make an adjustment to my fork and got passed by a fellow GA rider. I mumbled something about how I was riding like a sissy. I then looked down and realized that my rear shock was still locked out from all the climbing...opps! I unlocked it and proceeded to enjoy the rest of the descent...until the switchbacks at the bottom. The red clay was so slick and mushed up that they were only rideable between the switchbacks. I was thrilled to exit that trail in one piece. I only had one fall and that occured while trying to walk down one of the switchbacks, I slid down on my butt and my bike came crashing down on top of me. Really glad no one saw that :) There was one final gravel road climb to the next round of Kitsuma. The climb was tedious, but I knew it led me to the finish. The time was now just about 9 hours into the race. I figured Kitsuma would be as muddy as Heartbreak Ridge and realized that I may not be able to finish in 10 hours depending on the trail conditions. I was right. The second I stepped foot on the Kitsuma switchbacks up, the skies let loose. The trail was reminiscent of the Southern Lights 24 hour mudfest in June. Water flowed down the trails like crazy. I hiked almost the entire way up, which was much more time consuming. On the descent, I quickly realized my front brake pads were near worn through. I asked the riders in front of me if I could get around so I wouldn't have to brake as much and wear out my pads. It seems I had forgotten how much more uphill there really was, even after you start descending. Again, I hiked a lot of this, and looking back on it, this was a waste of time..I should have just ridden it since I had the energy to do so. Somehow I made it down to the bottom before I took my first nice long slide on the very last downhill of the trail...I could even see the parking lot at the end, but there was just no traction whatsoever. Luckily, nothing was hurt and I hit the pavement to the finish. I rode as fast as I could, even though I knew I had really missed the 10 hour goal. I rolled in at about 10.5 hours (maybe a little longer), covered in mud from head to toe. I still felt great, I had energy in my legs and had a great ride. This told me I could have ridden harder..but at the same time it was a good feeling to know that I had more to give...and I will come the 100 miler in September. I was really pleased with finishing, as that was the ultimate goal. I will now be able to set higher goals for myself at next year's race. Actually, I'm really pleased with all my race results this year. I have to attribute a lot of it to finding my inspiration as well as great coaching...so thank you Eddie, and Kristen for that.
And, and all you FL guys (and girls), and Charlie really kicked butt this weekend...and were hilarious..thanks for the fun!