Happy New Year!
You may have already seen this on
Danielle
's blog, but I couldn't resist sharing again. Cheers!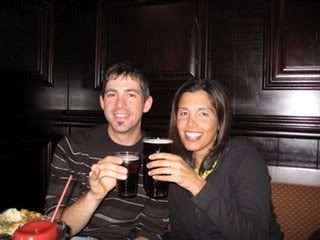 Our trip to Michigan was pretty fun, despite the cold weather. We got in a few rides and a few local brews as well. This picture was taken at my favorite place in Ann Arbor, Ashley's. I spent many days here in college.
I even got Eddie the big Husker fan to Michigan Stadium!! Woohoo!! I think he was impressed.
Okay, maybe not.
We're back in Atlanta and the bad weather seems to be following us. My first ride back in GA was spent on the trainer and I actually tried out rollers for the first time..it was much more fun than I expected it to be. Unfortunately, our mountain bikes aren't back from AZ yet, so the earliest we will have them is Tuesday..I will miss out on the big New Years Day ride up in Ellijay (BUMMER). Either way, it's time to start training hard! I hope everyone has a happy and safe new year!